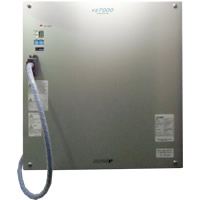 A REJ drive unit (e.g. Drive MuLti) takes a role as a converter and inverter. In VZ7000 series, the functions of a converter and inverter are designed separately. VZ7000 is suitable for the system application that is configured as single converter can be connected to two or more inverters through the common bus.
Product Characteristics
Sine VZ7000 adopts charging through the thyristor phase control, it does not require a charging resistor or contactor.
System Configuration