Controllers
Sophisticated programmable servo controller from highly efficient servo control to production management
Compact PSC
An integrated programmable servo controller, combined with PSC7000 functions and capabilities of efficient serial communication with other Reliance Electric inverter units.
PSC7000

Programmable Servo Controller
Quick response and high resolution with 32-bit DSP
Drivers
VZ7000 Digital AC Servo Drive
VZ7000 Digital AC Servo Drive is a sophisticated servo drive based on the experience and know-how obtained from VZ3000 / BL3000 series. Especially in the field of servo control and multiaxes synchronous applications, Reliance Electric can provide tailored solutions to meet your specific needs.
VZ7000 Digital DC Servo Drive
VZ7000 DC Motor is an integrated digital DC motor controller introducing the advanced power module technology. While many manufacturers have discontinued manufacturing DC motors, Reliance Electric provides VZ7000 DC solutions for DC power supply.
Drive MuLti
Reliance Electric developed a sophisticated drive unit by combining the control inverter performance and high line drive application technology. Drive MuLti enables distributed control of the system by providing control loop for line drive application.
Converters
SS40000
SS4000 Active Front End (AFE), a regenerative converter with sinusoidal PWM signal generation techniques, energy saving and cost effective.
VZ7000 Converters
A Reliance Electric drive unit (e.g. Drive MuLti) takes a role as a converter and inverter. In VZ7000 series, the functions of a converter and inverter are designed separately.
ForceSTAnd
The ForceSTAnd is a general-purpose, low cost, and highly efficient regenerative unit to convert 3 phase AC into DC currents. The ForceSTAnd can provide a solution tailored to meet your specific needs when combined with VZ7000 and Drive MuLti through common bus.
Motors
Reliance Electric provides a wide variety of AC motors and BL motors that can be combined with VZ7000 and Drive MuLti series.
Other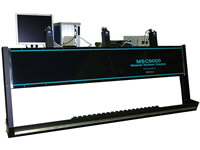 MSC9000 is an intelligent inspection system that enhances overall quality, control and productivity of the defect detection process.