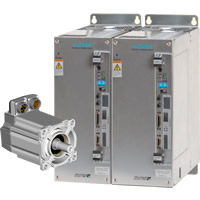 VZ7000 Digital AC Servo Drive is a sophisticated servo drive based on the experience and know-how obtained from VZ3000 / BL3000 series. Especially in the field of servo control and multiaxes synchronous application, REJ can provide tailored solutions to meet your specific needs.
Product Characteristics
VZ7000 Digital AC Servo Drive accommodates a wide range of motor capacity from 5kW to 600kW, further high-speed DSP enables frequency response 1256rad/sec or higher. The high resolution encoder improves stable operation at low speed. It adopts SERCOS, an international standard, designed for high-speed serial communication of standardized real time data with servo controllers.
Flexible Capacity
Supports 1.5kW to 600kW motor capacity.
Quick and Accurate
High-speed DSP brings out frequency response 1256rad/sec or higher. The high resolution encoder (1,000,000p/rev) improves reliable and stable operation at low speed.
High-speed Synchronous Serial Communication
SERCOS and IEC/EN61491 (Serial data link for real-time communication) are implemented as standard and enable high-speed synchronous serial communication between drive units and servo controllers.
Small and Compact
Conventional units have been downsized by 70%. The unit enables space-saving for storage and transportation through the adhesive mounting.
Safe and Reliable
REJ is trying to maintain the safety of our products. To reduce the hazards and lead to lower electrical accident rates, we address electrical safety design by adopting the following: protection circuit by power module, DC Bus fuse, and control power independent from the main circuit.
Independent Control Power Supply
The control power supply is configured separately from the main circuit. The user can edit parameter settings or check monitor when the main power supply is turned off.
Isolated Regulator
The regulator is isolated from all external input signals to minimize electrical noise and improve electrical safety.
Feedback Option
A variety of feedback sensors are provided from high-resolution encoder (1000000p/rev) to serial absolute encoder and incremental encoder.
Field Network
DeviceNet, CC-Link, ControllerNet
International Safety Certifications
VZ series are UL, cUL certified and CE compliant.
System Configuration